Try These 17 Employee Appreciation Ideas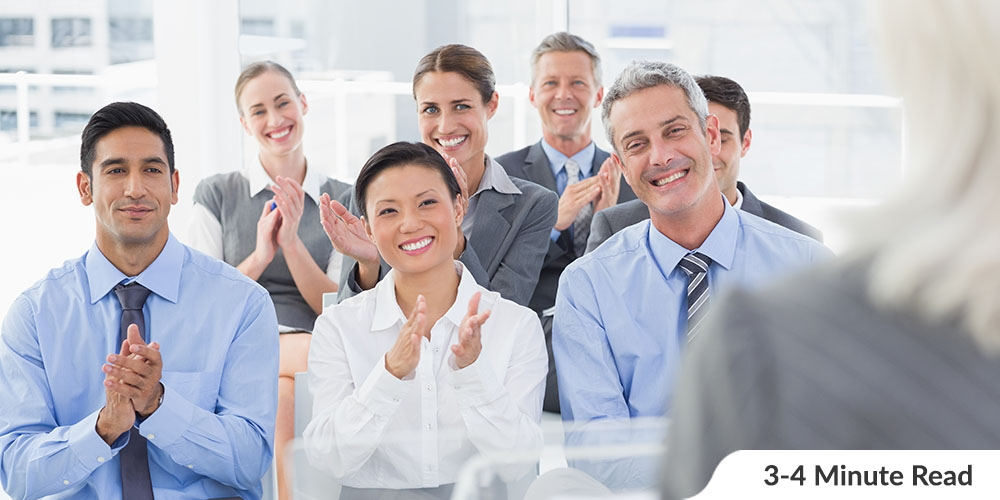 You work with a rock star team that always goes the extra mile, thinks outside the box and gives full attention to their work – so much so, that it could sometimes be easy to forget to thank them for doing an awesome job. Fortunately, technology in the form of employee satisfaction- and employee motivation apps, is available to help us implement and streamline employee appreciation.
It's vital to reward workers on a job well done. Acknowledgement makes workers feel valued: you're showing somebody that their work counts. A little professional acknowledgement goes a long way toward increasing staff morale.
Want to learn more about the benefits of positive feedback? Check out our article on it here.
Every year, Staff Appreciation Day is commemorated on the first Friday of March, but that doesn't mean that you must limit employee appreciation to 1 day!
Here are a few concepts you can use as inspiration to show your team some love, regardless of whether it's Employee Appreciation Day or not, along with some tips on an appropriate employee satisfaction app to use for implementation:
1. Call out the little things —whether during a meeting, an email to the organisation, or in another creative manner.
2. Have an employee appreciation program — it could even involve a system that rewards points that people can cash in for small rewards, like leaving early.
The Ezzely employee motivation app's Rewards feature is easy to use and allows you to reward your colleagues in real-time. Click here to learn more about it.
3. Implement an employee of the month initiative and encourage employees to nominate their co-workers.
4. Let staff members have flexible timetables and shifts. For example, allow them to swop shifts and to make arrangements to work from home. It can boost productivity and encourage trust.
Want to learn more about the benefits of allowing your employees to swop shifts and to have more flexibility? Check out our article about it here and here.
5. Provide a small allowance to everyone on the team for some desk upgrades.
Things like yoga balls and pot plants can provide a nice boost in staff morale.
6. Give them a gift voucher to the local café to show your appreciation. Who doesn't love a good cappuccino? Even a $10 card could bring a smile to someone's face.
The Ezzely employee motivation app's Rewards feature enables you to award points to your staff that can be converted into a range of prizes. Click here to learn more.
7. Treat new staff members to lunch on their first day of working at the organization.

8. Be vocal. If a co-worker praises a colleague in a meeting, let that colleague know. Spread the word that they are appreciated.
The Ezzely employee satisfaction app's Activity Feed feature, which allows you to send a message to everyone in your organiszation instantly, would be a great tool to use to implement this idea.
Learn more about it here.
9. Take your staff out to a fun company outing like bowling, laser tag, or karaoke.
10. Place a few board games or a foosball table in the break room or common space. It'll bring a smile to your staff's lunch breaks.
11. Bring in a massage- or beauty therapist as a relaxing treat for everyone in the office.
The Ezzely employee satisfaction app's Rewards feature sparks enthusiasm by enabling employees to convert real time achievement recognition into a variety of prizes. Click here to learn more.
12. Throw a pizza party. It might be an oldie, but it's still a goodie!
13. Stock the office pantry with a few healthy snacks and treats. Having something to nibble on always makes us feel happier.
14. When you feel a colleague or team member has done an exceptional job, thank them then and there – don't wait for "when you have a moment." There is no better time than the now.
The Ezzely employee satisfaction app's Recognition feature is easy to access and gives you the ability to recognize your co-workers on the fly. Click here to learn more.
15. Arrange team happy hours or dinners. As a manager, it's always a nice gesture to cover all or part of the bill if you can. If your budget can't accommodate it, employees will still appreciate the event and the time away from the office.
16. Ask your staff for ideas about fun things to do — what would THEY enjoy?
17. Kick off a recommendation initiative about how to improve your workplace. It will help your staff feel heard.
The Ezzely employee motivation app's Survey feature is a quick and easy channel to use for implementing the two ideas above. Click here to learn more about it.
Last note:
Are you ready to start appreciating your employees today?
We invite you to try Ezzely. Just click here to see how it works or sign up fora free trial here.