Game-changing Employee Engagement Ideas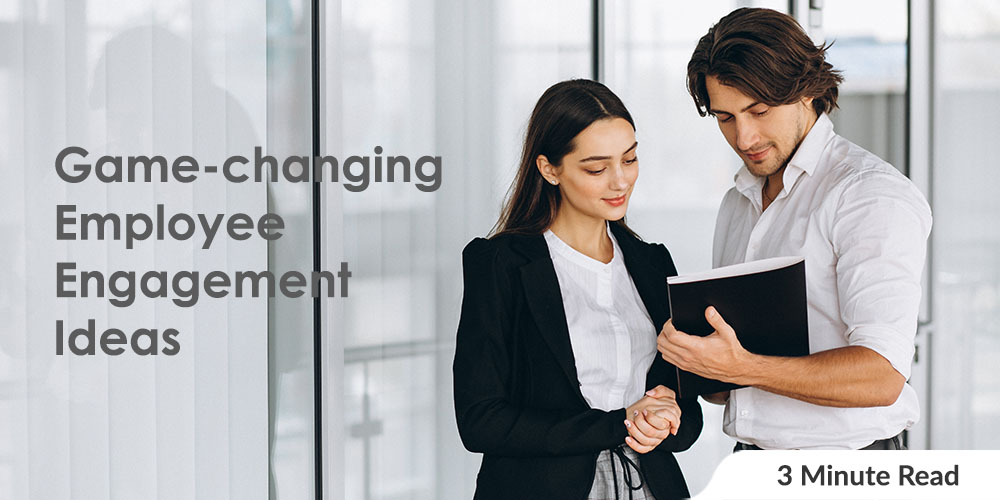 Relationships are complex for various reasons. People have different personalities, hopes, dreams, coping mechanisms, backgrounds, interests, and skills. It's difficult enough to maintain equilibrium between family members and romantic partners, let alone a workplace where all these differences come together in an environment where performance and company goals are top of mind. It can get messy. But it can also be wonderful – an environment of learning, personal growth, career fulfillment and collegial support. That's where employee engagement initiatives play a meaningful role. You're probably already familiar with all the stats that back the relevance of employee engagement platform in our fast-paced world (if you're not, or if you love keeping up with the stats, take a look at our white paper: "The ROI of Instituting Employee Engagement Initiatives: What You Need to Know to Make Informed Decisions"), but you might be left wondering how you can keep your employees engaged. If that's the case, you have come to the right place.
Simple ideas to keep your employees engaged
1. Assign a buddy to every newcomer
One of the fastest ways new employees become integrated into an organization is by spending time with their new team members, even when participating in activities that are not necessarily work-related, such as going for lunch or meeting up for drinks after work. Assign a "buddy" (anyone in the team who would be up to the task) to every newcomer. Not only can a "buddy" show newcomers the ropes, they can also serve as meaningful sources of support at work and assist in adapting faster to their new work environment. The faster a new hire gets up and running, the sooner they can be productive.
2. Prioritize employee appreciation
The primary reason people in the US tend to leave their jobs is that they don't feel appreciated. If you want to keep employees motivated and engaged, you need to prioritize appreciation; it does not always have to be formal or expensive, and nothing beats a sincere "thank you" for a job done well (Check out:"A Little Goes a Long Way – Employee Recognition and its Rewards").
Ezzely has a built-in recognition functionality where colleagues can publicly commend each other, employees can receive points and messages of congratulations, and exchange points for a reward of their choice from the available selection.
Find creative ways of weaving appreciation into your workplace culture so that it becomes second nature in all echelons of an organization (Check out:"16 Thoughtful Employee Recognition & Engagement Ideas for 2019")

3. Provide meaningful feedback
Provide meaningful feedback in all spheres of work to cultivate a culture of sharing and transparency, which could ultimately lead to greater trust among employees and employers, as well as personal growth in cases of work-related feedback. Ensure that your employees are always the first to know when any organizational changes will affect their world.
Ezzely's Activity Feed will come in handy here – share anything from company news to employee survey results here and ensure that everyone stays in the loop.
4. Encourage autonomy among staff
Assist employees in maintaining a work-life balance by encouraging autonomy (one of the essential elements of employee engagement). According to a Harvard Business Review report, companies that are strongest in fostering high levels of employee engagement are also willing to offer their employees greater levels of autonomy, including allowing them the opportunity and freedom to exercise judgment in doing their jobs and to learn over time from client feedback (both internal and external) to improve on their performance.
Some employers allow flexible work schedules. Ezzely offers a handy Shift Swap functionality that allows staff to request a shift swap using the Ezzely app, and for managers to review and approve swaps at the click of a button, thus streamlining the company's scheduling logistics.
Other organizations even permit their employees to work from home in cases where it's feasible; in these cases, employees would benefit from having convenient access to any tools or work-related information necessary to effectively complete their work remotely. With the Ezzely app, employees can access their training content from anywhere, can keep up to date with company-related news via the Activity Feed, or upload important documents via the Document Upload functionality.
These employee engagement ideas, although simplistic, illustrate how easy it can be to improve employee engagement by using the right strategies and incorporating it into everyday work life with something as simple as a holistic employee engagement platform. Contact us today to schedule a demo or visit our website to learn more about Ezzely's employee engagement solution.