Connect Employee Engagement Ideas With Your Company Culture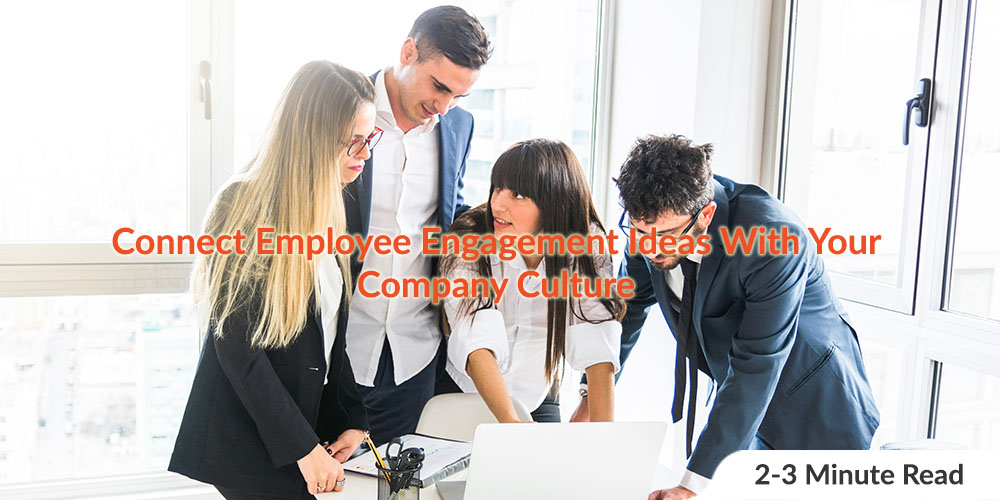 Ensuring that your workers understand the values of your business is one of the best ways to engage with them, particularly if you want to build a team of people sharing those principles. Sharing a commitment to those values will strengthen the bonds between your employees and your organization.
It is no secret that staff who are engaged are content, more successful and less likely to leave their jobs. But while there is a lot of management tips on how crucial employee engagement is, few companies are excelling in this area of talent management. As the Gallup Daily Employee Engagement polls indicate, more than half of employees are not engaged and are looking for their next employment opportunity.
What leaders need is realistic, actionable ideas for employee engagement that they can use now, and a great place to start, is by making sure that your employee engagement ideas link up to your company culture. Let's unpack this.
Recognize innovation
People stop getting involved if they feel that they have joined a company culture that is afraid of change or new thinking. By inspiring your employees to think outside the box (in both larger and smaller ways) and by recognizing innovation when you see it, you can affect that perception.
Whether they propose changes to an existing system or a brand-new initiative, innovation is a sign that your personnel are really engaging with their jobs.
The Recognize feature of the Ezzely employee engagement app enables your staff to call one another out on a job well done. Click here to learn more about how it works.
Celebrate accomplishments
Make an effort to celebrate achievements, whether they are major team successes or individual victories on a daily basis. This helps strengthen the significance of your team's work, which will give them the motivation to tackle the next major thing.
It doesn't have to be huge celebrations, either – even a simple email highlighting the commitment of one member to the entire squad can be the boost of appreciation that someone needs.
The Ezzely employee engagement app has a Reward feature that makes it easy to congratulate your team members on a job well done. Click here to learn more about it.

Keep communication lines open
People want to feel heard. Let your staff know that you are listening by allowing them to provide input in a secure, productive manner.
Whether you are setting up weekly staff meetings or holding standard office hours, tell your staff when, where and how they can share their opinions with you. Above all, make sure to act on that input, otherwise staff will stop sharing.
The survey feature of the Ezzely employee engagement app allows you to gather the inputs and opinions of your staff. Click here to learn more about how it works.
Make life-long learning part of the culture
Learning should not stop after the onboarding process is complete – if businesses want to see more employee engagement, they need to take developing talent seriously.
Meet employees to address their career goals and provide personalized guidance on a regular basis. Use the Learning Management System (LMS) of your company to provide team training and keep helping employees improve their skills.
Check out the Ezzely App if your company or business unit does not currently have an LMS (or still uses a legacy system without cloud hosting, modern course authoring tools, integrations, mobile access and analytics).
Last note:
Are you ready to enjoy the many benefits of engaged employees in your organization?
We invite you to try Ezzely. Just click here to see how it works or sign up for a free trial here.