Returning to Work After COVID-19: Four Tips to Get The Best Start for Your Employees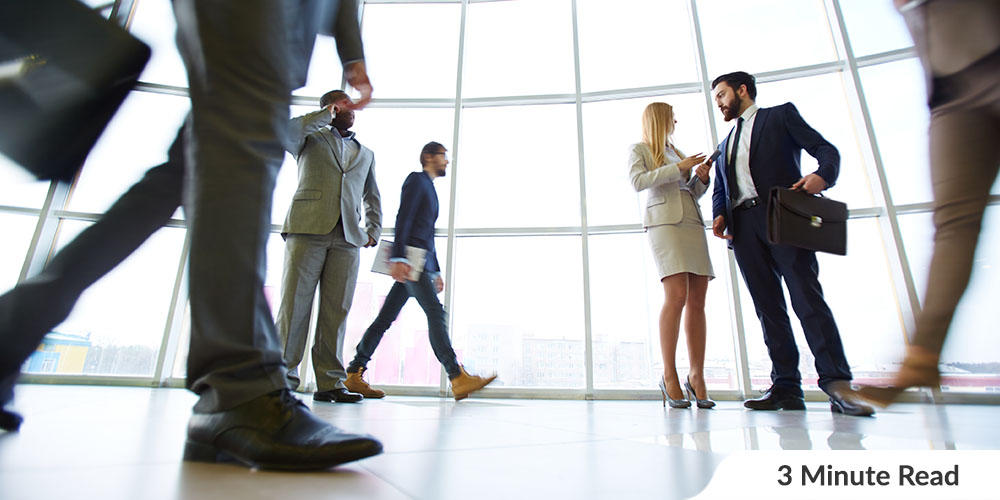 As regions begin to open up once more, employees will slowly start to go back to work in their offices. In just a few weeks, best practice and how we do things have changed, and these changes in lifestyle apply not only to our personal lives but also to the workplace.
Returning to work after COVID-19 can be stressful, frustrating, and unsettling. To ease the transition, teams will need to make changes – things like policies, the physical workplace, and their approaches to employee relationships. Luckily, we still have the technology, such as employee engagement apps on our side to help us navigate these changes effectively.
Consider these measures and employee engagement app features to ensure that your organization is preparing effectively for the return of its staff after lockdown.
1. Make the office a safe place in which to work.
Health and safety should be your primary focus upon returning to work – that's why the first step is to ensure that the workplace is safe for employees. Hire a cleaning service to clean the whole building thoroughly. A professional cleaning service's high-grade cleaning solutions will kill more germs than typical products, and the cleaners will get into every nook and cranny where bacteria and viruses could be hidden.
Ask the cleaners to sterilize common areas as well as individual areas of work. This is also the perfect opportunity to shampoo carpets and clean air ducts. Even if no one has been in your workplace for weeks, a deep cleaning job will set your employees' minds at ease and make the office fresh and sparkling for their return.
2. Help your employees with reminders.
After cleaning the workplace, it is important to encourage employees to keep it safe and healthy. The whole office will feel more at ease when everyone does their part. Give employees frequent reminders on how they can look after their health and the health of their colleagues by sending out notifications with your employee recognition app on the following topics:
Coughing and sneezing etiquette (into a handkerchief or elbow)

Best ways of washing your hands

Not returning to work while they are ill

COVID-19 symptoms (because the virus is unlikely to be eradicated by the time you return to work)

3. Support good hygiene.
Help your employees to look after their health by making sure there are enough supplies on hand. Make sure you have enough of the following at your office:
Hand soap

Paper towels

Disinfectant spray and/or wipes

Hand sanitizer

Tissues

Face masks
Keep disinfectant in work areas so that staff can clean doors, door handles, elevator buttons, and equipment during use. Put a hand sanitizer in the workplace too, to help your staff to disinfect their hands when soap and water aren't easily accessible.
Ask your staff to notify you if your supplies are running low by using your employee engagement app – this way, you can also include your team in making the work environment safe and clean.
4. Update your policies
The coronavirus pandemic has completely changed the way that every sector does business. As a result, you will need to take a look at your latest policies and procedures and modify them to adapt to current best practices.
Update your sick leave policy in particular to include details on COVID-19. Do employees get extra days off if they have a positive coronavirus test? If so, how many of them? Are you offering leave to employees who live with or take care of an infected person?
By notifying your staff of recent updates to your company policies using an effective employee engagement app, you'll also ensure that everyone in your organization is up to date regarding the latest policies and procedures.
As the old saying by Benjamin Franklin goes: "if you fail to plan, you plan to fail." By taking some time to make sure your organization prepares effectively for the return of its personnel, you'll help your business and your staff to transition into the new world of working and doing things more easily.
Last note: 
To implement these guidelines effectively in your organization, you'll need an employee engagement app that will make communication and collaboration a breeze.
We invite you to try Ezzely for this. Just click here to see how it works or sign up for a free trial here.