Employee Scheduling Apps Can Empower Your Small Business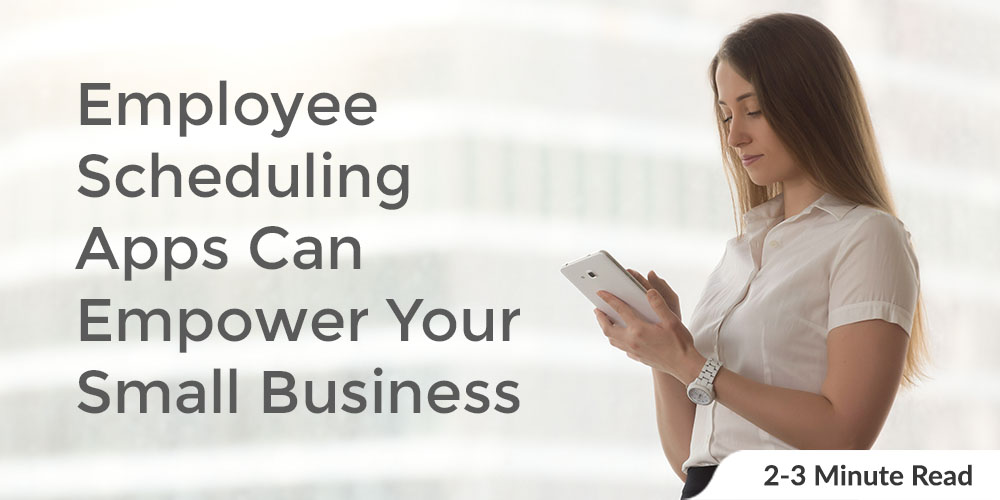 Companies are continuously looking for creative ways to stay ahead of the competition today. Running a small company can be difficult, from year-after-year struggles to increase sales, to competing with larger firms and hiring new staff. Managing all the moving parts of a company will take a lot to make sure that everything runs as efficiently as possible. So why not let technology do some of this heavy lifting?
Today's technology helps small businesses handle facets of their daily operations better and in enabling companies to achieve their goals. It even helps to reduce operating costs and to increase efficiency. We recently contributed to an employee retention blog post for Blink [with an info-graphic on exit interviews!]. Check it out here.
Technological innovations such as employee scheduling apps allow staff to schedule and review multiple tasks in a heartbeat, swap their shifts, recognize one another on a job well done or even just to stay informed on everything that's happening within the organization.
This goes a long way in ensuring high productivity, resulting in more profits for the business.
Let's unpack how a mobile app can empower your small business.
Build a positive company culture
One of the most defining aspects of a company's success lies in its culture, and it is never too early to start working on and implementing a positive culture at your new business. One of the best ways of doing this is by encouraging the recognition of top performance, and by making this easy for your employees to do. Recognition is a highly effective driver of motivation and productivity since it indicates to your staff that your business does not let effort and hard work go unseen.
The Recognize feature of the Ezzely employee engagement app enables your staff to call one another out on a job well done and is easy to understand and to use.
Reach out the Recognize feature to learn more about how it works.

Improve and streamline internal communication
One of the biggest obstacles to success and productivity is the fact that not everyone is on the same page, or that not everyone has received the same message. Instructions can become confused when they are relayed between co-workers and misunderstandings could occur, even at the best of times.
An effective way to address is, is by making sure everyone gets the same message, at the same time and in the same way.
The Activity Feed of the Ezzely employee scheduling app is a tool that allows you to send a message to everyone at your organization. Access the Activity Feed feature to learn more about it.
Gather ideas from your staff
We often are under the impression that the best ideas are "out there" somewhere, but more often than not, the most valuable ideas, thoughts or suggestions can be closer than we think. Think about it – who better to ask for ideas, than the people working at tour organization?
Let your staff know that you are listening to their ideas, feedback and suggestions by providing them with an opportunity to share them in a secure, productive manner.
The survey feature of the Ezzely employee engagement app allows you to gather the inputs and opinions of your staff. Browse the Survey feature to learn more about how it works.
Keep your workforce relevant and engaged
Learning should not stop once a new employee has been onboarded– one of the best and most effective ways you can grow your small business starting today is by providing your staff with access to relevant and easily accessible learning content that will empower them to keep their skills up to date.
The Quick train app allows your staff members to instantly access a wide range of high-quality learning content. Visit Quick train feature to learn more about it.
Last note:
Are you ready to start engaging your employees today?
We invite you to try Ezzely. Just click Ezzely to see how it works or sign up for a free trial here.