Employee Satisfaction Survey Questions That Reveal a Lot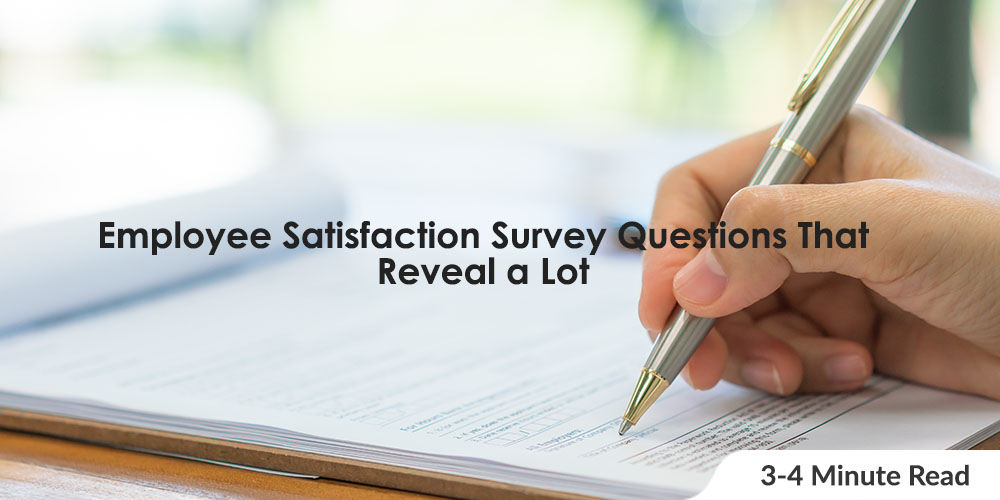 If you're reading this, you're probably trying to create an employee satisfaction survey that will yield meaningful responses – ones you could use to ramp up engagement and, along with it, all the wonderful benefits of a satisfied workforce. You've come to the right place, because we've found some useful guiding questions that will take your employee satisfaction survey from informative to insightful:
1. Do you find your work meaningful?
We spend most of our daily lives at work – so it comes as no surprise that a large proportion of employees participating in the 2017 Globoforce survey indicated that meaningful work is an even more important consideration for staying with an organization than compensation, company culture, or support from colleagues and managers.
2. On a scale of 1 to 10, how would you rate your work-life balance?
Employees with a poor work-life balance run the risk of burning out, resenting their employer, or compromising relationships outside of work; while a good balance leads to improved employee satisfaction as well as in increase in an organization's level of attractiveness to future recruits.
3. Are you inspired by the purpose and mission of our company?
Employees who feel connected to and aligned with the purpose and mission of their company are more likely to perform in ways that mirror these. If people cannot identify with their employer's purpose and mission, they're probably just working there for the pay check. Should a survey yield result that indicate dissatisfaction with a company's purpose and mission, it might be time to relook and revamp either the purpose and mission statement, or perhaps reconsider the ways in which candidates are recruited in future.
4. Do you like our company culture?
According to Hubspot, a good company culture is essential in the retention of top talent, citing research form Columbia University: "The likelihood of job turnover at an organization with high company culture is 13.9 percent — whereas the probability of job turnover in low company cultures is almost 50 percent." Company culture relies on multiple factors, including the workplace environment, company goals, expectations, and values. Not only does a good working environment foster satisfaction among employees, but also adds to improved collaboration among colleagues and consequently, productivity and efficiency.
Gaining an understanding of what works and what detracts from a good company culture will aid in developing a working environment where people like being, working and collaborating- while creating a sense of pride and belonging along the way.

5. On a scale of 1-10, how likely are you to recommend our company as a good place to work?
If your employees wouldn't recommend your company as a good place to work, it might be sending a very loud message about their own experience of working there. This goes without saying: Happy, satisfied and engaged employees are your biggest supporters, while dissatisfied employees who wouldn't even want someone else to work for you, have the potential to break down a company's brand from the inside.
6. Hypothetically, if you were to quit tomorrow, what would your reason be?
This question gauges possible problem -areas that may not be immediately obvious, that could be causing your employees to seek greener pastures. In asking this question, you may be able to address any issues and improve the company culture in the long run by making employees feel heard and valued.
7. Do you feel valued at work?
One of the main factors informing an employee's decision to quit is when they do not feel valued or appreciated in their teams. Employees who feel valued feel more satisfied, more engaged, and are consequently more likely to put in more effort into their work and less likely to find better opportunities elsewhere.
8. Do you believe that there is room for personal growth at work?
Soon, millennials will make up most of the workforce in the US and it has been shown that millennials would gladly stay on at a company if they believed that it carried room for personal growth such as ongoing skills development. If employees indicate that they experience a lack in the "personal growth" department, it is now more important than ever to address it as soon as possible by making self-directed, flexible learning opportunities available to all staff.
Employee satisfaction surveys, when deployed correctly, can provide valuable insights into employees' mindsets and levels of satisfaction and engagement at work. Ezzely is an employee engagement platform with a holistic solution – not only will you be able to develop and deploy the questions highlighted here directly to your employees' phones by using the built-in survey software on the Ezzely app, but you will also be able to address some of the potential shortcomings highlighted in your staff's responses. Have a problem with company culture or with staff feeling undervalued? Enlist the employee Recognition and Reward functionality, or implement fun organization-wide Raffles. Need to help staff to maintain a work-life balance? The Shift Swap functionality has you covered. How about offering skills development opportunities? As part and parcel of the Ezzely platform, you can upload your own learning material for staff to access wherever they are, or select from thousands of courses with our Training functionality, offering expertly curated content via the Coggno library.
Employee satisfaction surveys don't have to be cumbersome –visit Ezzely to find out how we can turn your employee survey app experience into one that yields meaningful changes in your staff's satisfaction!