5 Tips to Get Ahead of Crisis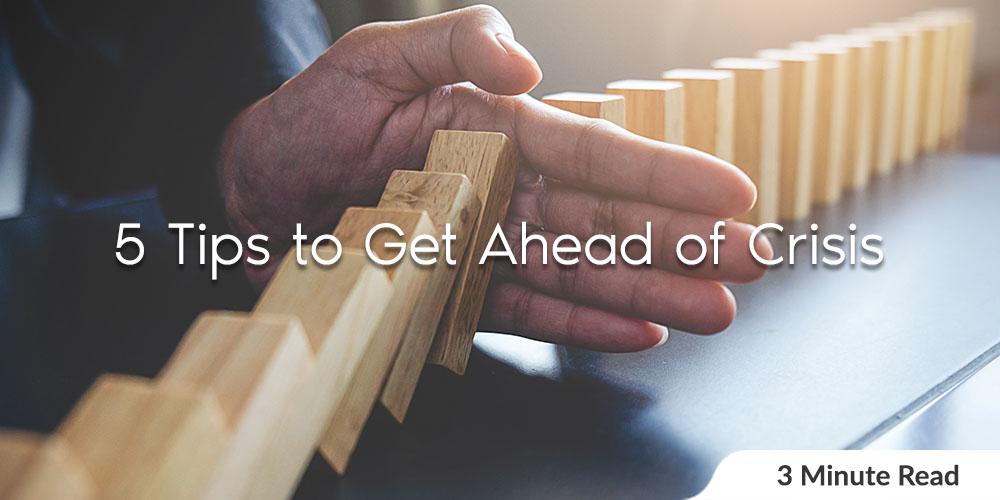 Having a crisis management plan in place will serve your business well. During times of crisis, employees may feel untethered, insecure, and may become disengaged if the business does not address the situation effectively. An employee communication app might be just what you need to manage a crisis before things spiral out of control and does irreparable damage to the business – but first you need a plan of action.
We unpack five suggested tips to ensure that you are adequately prepared to deal with an internal business crisis:
1. Have an approved plan that puts your employees first
A pre-approved plan allows you to respond in a timely manner when a crisis strikes. Make provision for controlling the narrative both internally and externally. It's especially important to ensure that your employees are not left in the dark and have the opportunity to hear important news directly from the business instead of from external sources such as the news or social media.
2. Ensure your leaders are informed
Ensure that leaders in the business are made aware of information pertaining to a crisis, ahead of time, in order to offer them sufficient time to prepare for potential questions from their teams. Additionally, a heads-up will ensure a unified response throughout all levels of the organization.

3. Provide an internal channel for employees to request and receive feedback
An internal channel of communication allows your business to monitor and respond to employees' questions and to have more control over the messages you want them to receive. Transparency with your employees builds trust and improves employee engagement in future. Perhaps this is where an employee communication app can be useful. Ezzely, as an example, has an Activity Feed which allows the business to communicate with employees, and employees to ask questions and receive responses instantly; in this way, everyone has access to the same information at the same time, and from a trusted source.
4. Respond quickly, yet deliberately
Some aspects of a crisis might be confidential and cannot be shared for fear of legal implications and especially in cases where the facts of the crisis are not yet fully understood by the business itself. "The most important thing is to acknowledge the situation in a timely fashion and assure your employees that you will let them know what is going on as soon as the details are known." When making use of an employee engagement app to assist in managing a crisis, ensure that employees are kept abreast of the situation in a timely manner. Important messages and updates can be crafted ahead of time and shared as required, via a trusted source in the organization.
5. Conduct a post-crisis evaluation of the plan understand what worked and what didn't
Were the leaders in the organization adequately briefed to communicate effectively with their teams? Were your employees informed in a timely manner, and were their questions adequately answered? Did the crisis communication plan assist employees in understanding the impact of the situation? Make use of an employee engagement survey to ask your employees these questions. Find out what worked and what didn't work to determine whether the organization's crisis management plan should be adjusted to better address future possible crises.
Let's help our employees to overcome crises by developing a solid crisis management plan, to help them remain engaged and to thrive despite momentary difficulties in the organization. An employee engagement and communication app such as Ezzely can assist you in remaining transparent, to dispel rumors, to show an organization-wide united front among leadership, and most importantly, to instill trust in the organization among employees.
"When faced with a radical crisis, when the old way of being in the world, of interacting with each other and with the realm of nature doesn't work anymore, when survival is threatened by seemingly insurmountable problems, an individual life-form — or a species — will either die or become extinct or rise above the limitations of its condition through an evolutionary leap."
― Eckhart Tolle