10 Fresh Ideas for the Best Employee Appreciation Week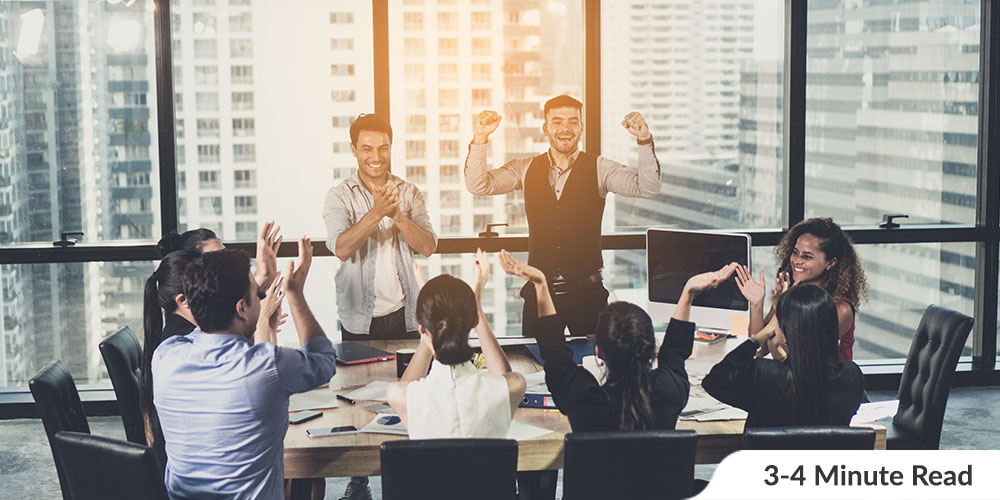 When was the last time you took a moment to think about some creative employee engagement ideas? As we are all aware, nothing in our organisations would happen without the dedication and hard work of its staff- why not go the extra mile this year in making them feel appreciated in a few different and innovative ways? Employee Appreciation Day should not have to wait to be celebrated only on one day a year – why not do an Employee Appreciation Week?
Let's unpack a few ideas you can use during your Employee Appreciation Week, along with an employee communication app that will make the implementation of these ideas in your organization seamless and effortless.
1. Implement a mentoring and coaching initiative.
Coaching and mentoring shows every employee that they are important to the organization and it forms a deeper relationship with the organization – this makes it an amazing employee engagement idea.
2. Who doesn't love free food?
Treat your employees to lunch, either individually or in small groups. Steer the discussion away from work-related topics; instead, try to get to know them better.
By using the Rewards feature of the Ezzely employee communication app, staff can exchange points that have been rewarded to them for a wide variety of prizes, such as company lunches.
Click here to learn more about how it works.
3. Team games
Make an inventory of fun activities (like bowling or karaoke) and have your team vote on their favorite. Just ensure to be mindful and to supply appealing alternatives for anyone with physical limitations.
The Raffle feature of the Ezzely employee communication app is a great example of a team game. Click here to see how it works.
4. Do their work for a day
Draw names from a hat to decide on one employee whose job you may do for a day. The chosen person can supervise you and ensure you are doing it right. You could simply get a bird's eye perspective of issues you weren't attentive to.
After doing their work for a day, you might have a fresh revelation of what an amazing job your workers are doing. The recognition feature of the Ezzely employee communication app is easy to access and use. Learn more about it here.
5. Crowdsource innovation
Send out a worker survey requesting suggestions on methods to make the organization run more efficiently, then hold a vote and promptly implement the winning plan. Your team would feel valued and you could well see an increase in productivity.
The Survey feature of the Ezzely employee communication app is a great way of collecting staff input for innovative ideas. Learn more about how to use it here.

6. Add fun to the break-room
Spreading worker appreciation by adding some fun to the office is another awesome employee engagement idea. Sometimes, having a puzzle to figure out may be a great exercise in mental relaxation. Toy stores feature a fantastic choice of cute, wacky, difficult and compelling amusements for all ages, and simply seeing them can calm down everyone's mood.
7. Upgrade office furniture
We spend many hours of our days sitting at our desks. Are your staff's chairs in a good condition? Are they ergonomically designed? This employee engagement idea may be a good way to avoid and prevent back issues and to improve posture and productivity. Your team would appreciate the fact that you look after their health.
8. Housecleaning or window laundry coupons
Another employee engagement idea is arranging a bulk discount at a neighbourhood housecleaning agency and providing all staff coupons for one session at their homes. Even the tidiest housekeepers would welcome a hand.
9. Free pass for day off or late arrival
The best employee engagement idea. Period! These passes are certain to be sought after, and they'll demonstrate that you respect your workers' outside commitments. The freedom of having the ability to choose a day to arrive in late, leave early or stay home can cut back the strain of conflicting demands, and can increase worker engagement.
10. Spa treatment, anyone?
Bring two therapists into the office and let your staff decide which luxury they'd prefer.
Whether they end up with fancy-looking fingernails or super relaxed shoulder muscles, it's a sure-fire way of brightening up their day.
The Rewards feature of the Ezzely employee communication app allows staff to exchange points they have received on a job well done for a wide variety of prizes, such as spa treatments.
Click here to learn more about how it works.
Last note:
Are you ready to enjoy the benefits of implementing these amazing employee engagement ideas?
We invite you to try Ezzely. Just click here to see how it works or sign up fora free trial here.